Each week, countless titles see release from all the various comic companies out there. Some will be good, some will be bad, and some will be downright excellent. Of course, we don't know which will be which but what we do know is which are our most anticipated. With that said, it is time once again to highlight the upcoming comics that I'm looking forward to the most, the ones that are On My Radar:
________________________________________________________
Batman #40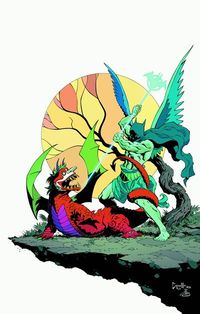 Creative Team
Scott Snyder, Danny Miki, and Greg Capullo
Solicitation
"The finale of 'Endgame' is here! Batman risks everything against The Joker! Who will laugh last?"
Why I'm Looking Forward To It
The end is here and after this issue nothing will be the same again. We already know a new Batman is imminent but how we get there will all be explained with this issue. How will the final clash between the Joker and Batman play out? Mutually assured destruction or the villain triumphant? We've been waiting extra long for this delayed issue to come out but all that has done is build our anticipation levels even higher.
________________________________________________________
Daredevil #15


Creative Team
Mark Waid and Chris Samnee
Solicitation
"As an old foe makes a surprising return, Daredevil must make harder choices. But is he going off the deep end? Also, Daredevil's got nothin' on Kirstin McDuffie. "
Why I'm Looking Forward To It
I don't really care what the solicitation says, just seeing that cover gets me interested immensely. I love the character of Kirstin McDuffie and it looks like she's going to get a prominent role with this issue. There aren't too many Waid/Samnee gems left as we race towards this title's conclusion so I'm going to enjoy every issue immensely and relish in what is left of this legendary run.
________________________________________________________
The Multiversity #2


Creative Team
Grant Morrison and Ivan Reis
Solicitation
"Every event in the history of the DC Universe has been leading to this! The final chapter of the greatest adventure of all time is here! Issue #1 artist Ivan Reis reteams with mastermind Grant Morrison to end THE MULTIVERSITY and bring together the greatest and bravest heroes of the DC Multiverse to fight one last battle. But more than just some cabal of super-villains, they face the greatest evil that ever existed. An evil so massive, they actually may not stand a chance! Who are the mystic Justice League of Earth-13 and what role does their leader Super Demon play in the crisis rising all around them? What shocking secret motivates the dark, nightmare henchmen known as The Gentry? And what is the final fate of Nix Uotan – the Super-God?! You cannot miss this final, stunning chapter of Grant Morrison's ultimate super hero epic!"
Why I'm Looking Forward To It 
Grant Morrison's baby wraps up this week, an event that took years to create. On a consistent basis this entire series of one-shots have left me impressed and I'm confident that this finale capper will blow our minds. While it would be hard-pressed to match the epicness of his Pax Americana issue, which recently got nominated for an Eisner, this grand conclusion should be great nonetheless.
________________________________________________________
Secret Avengers #15


Creative Team
Ales Kot and Michael Walsh
Solicitation
"'ARC OF A JOURNEY' The end is the beginning is the end is the . . . Unlikely partners have a meeting far away from the S.H.I.E.L.D. Helicarrier. The Secret Avengers run comes to its natural conclusion. Prepare your handkerchiefs."
Why I'm Looking Forward To It
Wow, this is sure a week of finality isn't it? Sadly, this is the one that really hurts the most. While Batman will live on and the Multiversity was always billed as a limited series, Secret Avengers was my favourite Avengers title that has come to an end due in large part to Secret Wars and criminally low sales. The perfect mix of action and humor, I will always hold this run in high regard.
________________________________________________________
Silver Surfer #11


Creative Team
Dan Slott and Michael Allred
Solicitation
"'Never After' – SPECIAL OVERSIZED ISSUE! Trapped in time, lost in space, with alien threats forever on the attack, and Paradise just outside his reach . . . what terrible price will the Surfer pay to fulfill his most selfless promise? A twist on a Sci-Fi classic that could only be told through sequential art. Forget 'sideways issues' and "silent issues", Slott & Allred are bringing you a modern-day Marvel comic you'll be talking about for years to come."
Why I'm Looking Forward To It
An issue that we'll be talking about for years to come? Talk about hype but if the released preview is any indication, it may truly live up to it.
________________________________________________________
Reid Vanier's Top Pick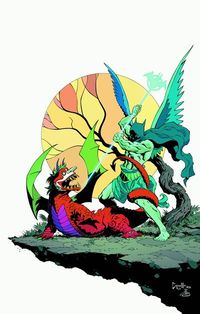 Batman #40
Creative Team
 Written by Scott Snyder; Art by Danny Miki and Greg Capullo.
Solicitation
"The finale of 'Endgame' is here! Batman risks everything against the Joker! Who will laugh last?"
Why He Is Looking Forward To It
I toyed with putting Justice League #40 or The Multiversity #2 in the top position this week, because I've been thinking about them for what feels like forever. But when I finally decided to be honest with myself, I knew that Batman #40 was the real issue I wanted most. Scott Snyder's "Endgame" arc has not been perfect, certainly not in the way that "Death of the Family" was, but when it comes to the Joker, no one has made him more terrifying or more of a force of nature than Snyder. When the Joker is around, Batman becomes a book in the horror genre, and that kind of gripping suspense is difficult to shake. Is the Joker immortal? Will either he or Bruce be killed? Is this the end of Batman as we know it? Honestly, I think the answer to all of those questions is no, but I absolutely must find out for myself. Such is the mark of a great suspense story.
To check out the rest of Reid's Pull List, go HERE and ready yourselves for his Review of the issue later on in the week!
________________________________________________________.
Other Comics I'll Be Purchasing
Alex + Ada #14
Avengers #44
Convergence #4
Convergence: Action Comics #1
Convergence: Blue Beetle #1
Convergence: Booster Gold #1
Convergence: Crime Syndicate #1
Convergence: Detective Comics #1
Convergence: Infinity Inc. #1
Convergence: Justice Society of America #1
Convergence: Plastic Man/Freedom Fighters #1
Convergence: Shazam #1
Convergence: World's Finest #1
Justice League #40
Moon Knight #14
Morning Glories #45
New Avengers #33
Quantum & Woody Must Die #4
Silk #3
Superior Iron Man #8
Superman #40
Teenage Mutant Ninja Turtles #45
________________________________________________________
And the title of my Most Anticipated Comic Book For 04/29/15 goes to….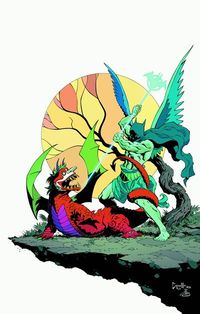 Batman #40
This should come as no surprise.
________________________________________________________
With that said, the final tally stands at DC Comics (15 Issues), Marvel (8 Issues), and Independent (4 Issues). So that's my Pull List for the week. What's yours? What comics are you most looking forward to? Comment below!